We have been asked whether it is possible to translate the texts of the automatically inserted fields for the "online version of the email" and for the "unsubscribe from the newsletter". We have good news for you – YES, it is possible, and below you will find instructions how to do it.
A piece of theory to start with
Legislation of the Czech Republic, and the EU, and most other countries, requires that the recipient of commercial communication has a direct and easy option to unsubscribe from such communication without additional costs (in simple terms, to have a link to unsubscribe).
Best-practice of email marketing is to also create online versions of your newsletter for display in web browsers to achieve the highest CTR (Click Through Rate) or at least secure the content of the campaign for people who use atypical email reading tools.
Emailcampaigns.eu solves the unsubscribe link automatically so you don't have to think about it. However, there are cases when you need to modify the automatic behavior. So let's take a closer look.
How does Emailcampaigns.eu handle this automatically?
In case you create a newsletter in Emailcampaigns.eu, the system checks the presence of the above mentioned unsubscribe link in Step 3 and if it does not find it in the body of the email, then it automatically adds it in the lowest part of the email while not changing the main content of the email and at the same time to comply with legislation and best practice.
%logout% – Unsubscribe link
%online% – Link to the online version of the newsletter
Both wildcards/attributes are embedded in both the HTML version of the email and the plain-text version of the email and do not carry any formatting – i.e. they use the recipient's standard system font.
How do I change predefined texts to my own ones?
You can replace the automatic system texts with your own ones before the system inserts them. The change is made directly in the editor in Step 2 by inserting the wildcards. Hover over text where you want to put the link and once the dialog window appears, click on the Placeholder option and choose the appropriate one.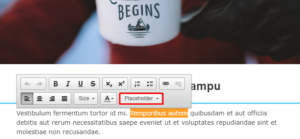 Select "Insert link to ONLINE VERSION" and "Insert link to UNSUBSCRIBE" from the menu. This will display the system text directly in the editor, which you can simply overwrite (the best way is to select the entire text with the mouse and overwrite it). Likewise, you can also set it to any formatting and placement within the email.
Attention! Never overwrite the source code of the logout link, but only the actual link text. The %logout% placeholder must remain in the source code – the system automatically replaces this value with unique links for each recipient when sending. If it does not find it in the email, it will add it by itself.