Emailcampaigns.eu offers you a new useful feature. This will be especially appreciated by those who are interested in analysing the success of their finished campaigns in order to make the future ones even more successful. Clicktracking, tracking of the most frequently clicked newsletter spots, results in nothing else but a heatmap. The heatmap visualises the spots which attract the readers' attention the most. This feature can now be found in the administration of our service under Statistics.
Using numerical bubbles depicted on the forefront of sent newsletter, the heatmap shows you how many users have clicked through for each spot of the newsletter. These click numbers can be subsequently used as indicators for further changes and for achieving higher effectiveness in future campaigns. Moreover, when you click the bubble, you will see a complete list of recipients, who have done so.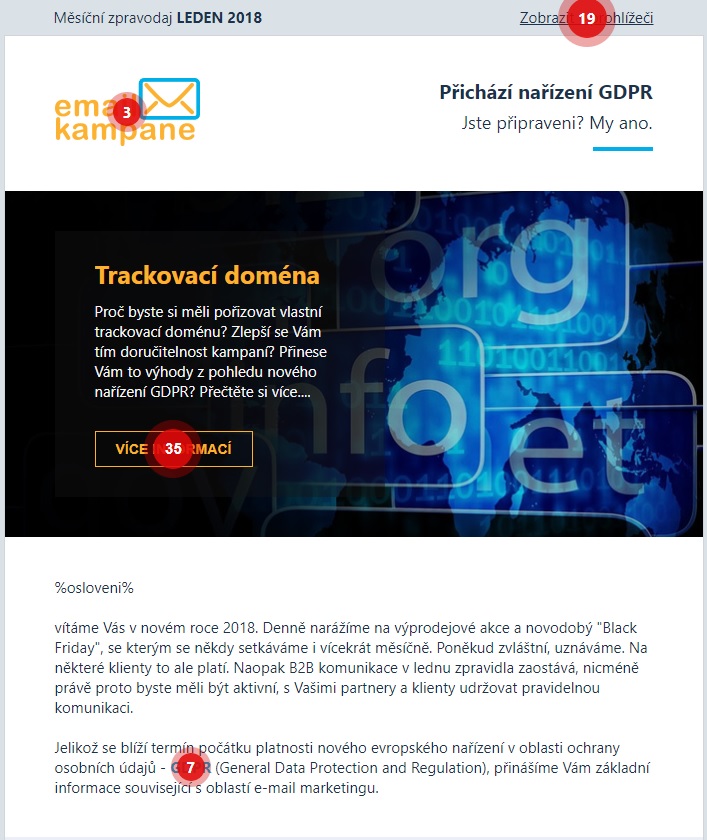 The tenet of the new feature is therefore quite simple while its utility for the content creator is great. The first impression of email newsletter immediately attracts our attention for several tenths of seconds, in which we decide, whether we will bin it immediately or whether we will give it a chance. The typical trait of email recipients is that they do not pay much attention to the content of the email received, they only quickly scan through – perceiving the visually attractive spots.
The catch is that the perception and subsequent evaluation of the attractiveness of these spots may vary for recipient and for content creator. The heatmaps help to create campaigns based on the recipients' real behaviour rather than unreliable presuppositions.
No other feature provides you with better overview of the popularity of individual elements within the newsletter, i.e. images, links layout and other graphical tools, such as interactive buttons. No other feature provides you with such a simple way to find out which parts of your newsletter are being frequently ignored and which, on the other hand, seem to attract the recipient's attention.
Heatmap is an effective assistant for everyone who takes their email marketing seriously and who is not indifferent towards the recipients' interests. Above all, it can help those who wonder how to improve their newsletter content layout, and thus achieving the ultimate goal – to acquire the client.
Do you need help?
Need more information? Need help with specific settings or entire email marketing? Contact us and we will gladly discuss all your options. We have many years of experience in specific areas and general concepts. Contact us!