In the modern world of digital business, it is important that companies offer their users maximum personalisation and simplicity in all interactions. So when eWay System approached us to create a personalized newsletter subscription page, we were excited to help optimize their communications.
Connecting with Emailkampane.cz:
In February, eWay launched its own blog focused on educating managers and entrepreneurs. Their primary goal is to provide a comprehensive educational platform for anyone interested in marketing, business, leadership and technology. We had the privilege of working with eWay to create an effective subscriber management system and customized emailing preferences.
Our goal was to ensure that eWay clients have full control over their newsletter subscription preferences. We knew that the scope of their blog had a wide appeal and not every article was relevant to all users. With this in mind, we worked with eWay to develop an email newsletter personalization page that allows recipients to customize their preferences to their liking.
Thanks to our cooperation, eWay clients can now easily manage their newsletter subscriptions. On the personalized page we created for eWay, users can now choose which newsletters they want to continue receiving and which ones they are not interested in. Users can now click on specific topics that interest them, such as Marketing & Sales, or they can unsubscribe from all newsletters if they are not interested.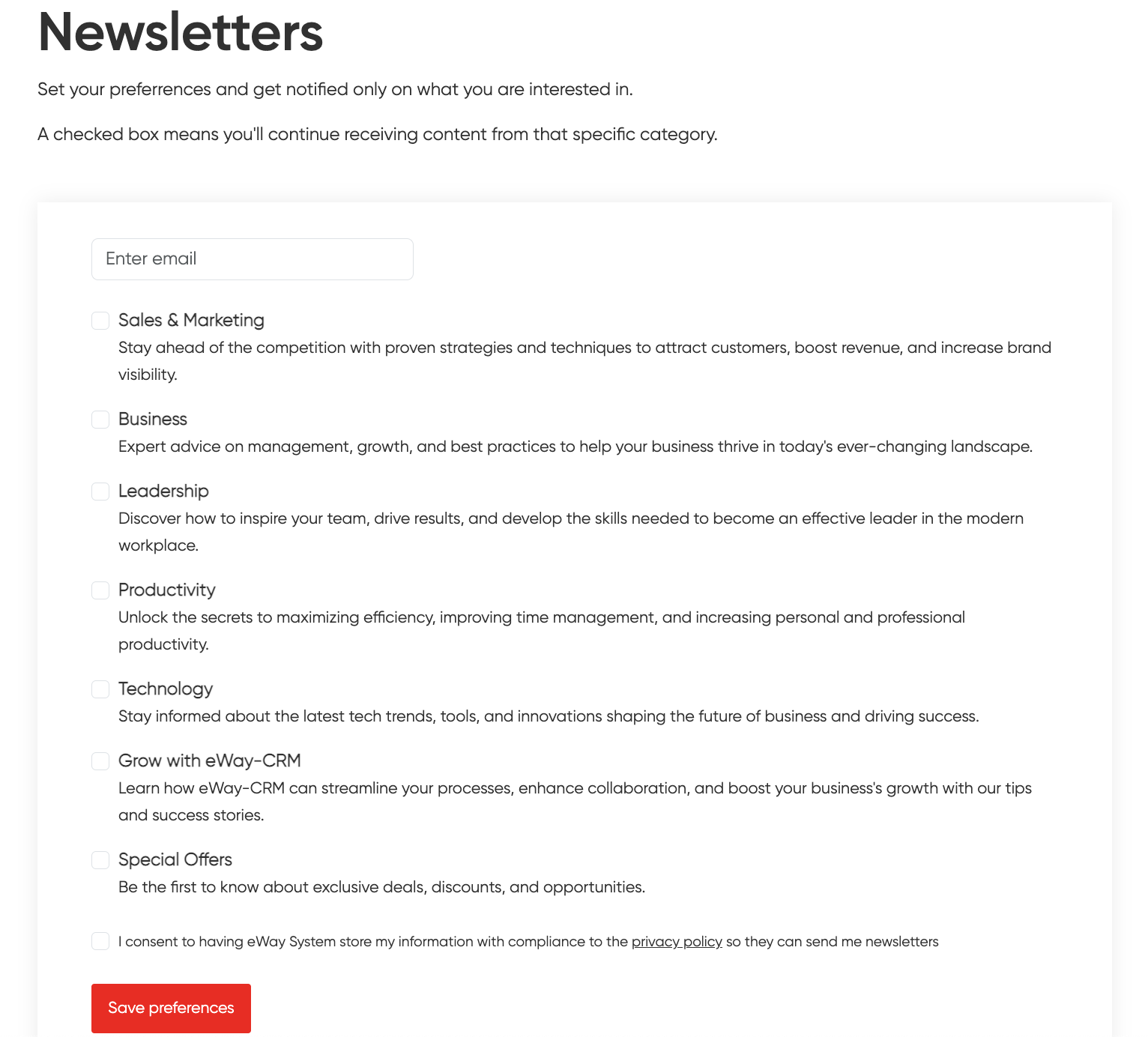 This email newsletter personalisation page represents a significant step forward for eWay and their clients. Previously they were concerned that sending multiple newsletters would be inconvenient for recipients, but thanks to our collaboration they are now able to send targeted newsletters knowing that the content is exactly what clients want. By doing this we have achieved content personalisation and increased relevance for each individual user.
About eWay System:
eWay System is a provider of comprehensive customer relationship management (CRM) software solutions. This software helps companies improve their customer relationships and optimize their business processes. Their eWay-CRM product is suitable for small, medium and large organizations that want to improve their communication with customers and increase their competitiveness. It is an effective tool to organize, track and manage all information about customers, business opportunities, projects and activities.
eWay-CRM is designed to facilitate communication with clients and optimize workflows. It enables central management of contacts, communication history and customer data. With an integrated calendar, tasks and projects, users can plan and manage their work activities efficiently.
Other eWay-CRM features include:
Sales flow tracking
Managing quotations and invoices
Marketing campaigns,
Data analysis
The system is fully customizable and integrates with other software tools, allowing organizations to optimize their processes and improve performance.
Do you like to have a similar solution too?
Interested in any email marketing related solutions, including subscriber management, content personalization or optimizing your marketing campaigns? Contact us and tell us your needs, and we will try to provide you with a customized solution that best suits your preferences.