Transactional emails represent a specific area of email marketing. Transactional communication differs from traditional email communication mainly because these emails are being sent to the recipients regardless of whether the sender has been given consent to receive commercial email marketing messages.
Typically, transactional emails are:
Confirmation of helpdesk inquiry, invoices, order confirmation, goods shipped information, log-in details, password reset, notifications about service outage, terminal failures at the branches, non-functional website, loss of central systems and alternative solutions, bulk (but personalized) information about order delays (e.g., due to pre-Christmas occupancy), etc.
Transactional email features

Purely informative purpose
Absence of commercial message
High deliverability into primary mailbox folders*
Absence of unsubscribe link – there is no possibility to sign-out from the communication
Approval process at Emailcampaigns.eu

Send a request to activate the Transactional Campaign function to support@emailcampaigns.eu. Our team will review and evaluate each such request individually. If the evaluation is positive, we will start this function for your Emailcampaigns.eu account and let you know.
Transactional campaign settings
Once the Transactional Campaign function is activated, you will find it an option in the 4th step of the campaign creation process, in advanced settings. Check the box, and don´t forget to recheck it if you have copied an existing transactional campaign.
The unsubscribe link will not be added to the campaign automatically by the system (if you want to keep it there and you have set it manually, it will work). At the same time, the campaign will be sent to unsubscribed and globally unsubscribed contacts.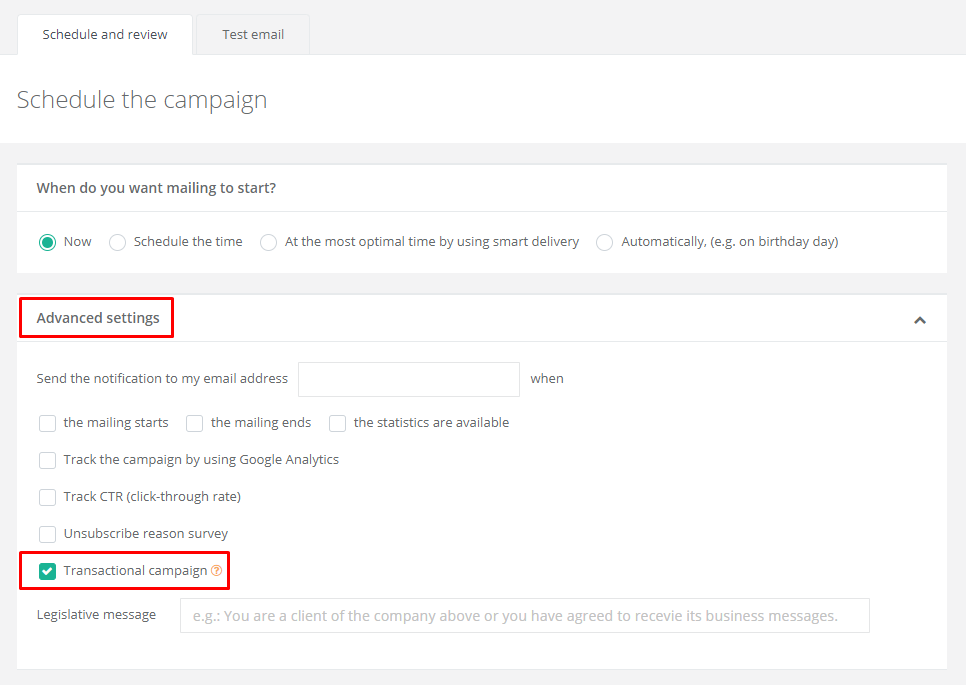 Concluding remark

If the campaign contains any commercial message, product advertising, etc., it is no longer considered transactional!
*Although transactional emails contain a specific code in the email header to secure the email passes through spam filters and settings of most email providers optimally, it cannot be 100% guaranteed that the email will be delivered into the primary mailbox folder (not to the bulk or promotions folder). Each provider applies its specific mechanisms that change dynamically over time.
!! In case of misuse, we reserve the right to block the account without the right to refund !!